Testimonials
Our experiences of both the breeders and our 2½ year old Dobermann, who we named Floyd, have been truly positive in every way. Martyn and Lisa Slade have been most pleasant, friendly and helpful from the time we first contacted them, on recommendation of a friend, until the present time when we are now proud owners of our wonderful dog Floyd. Staying in contact with Martyn Dobermanns has been a great way to exchange photos, update on Floyd's progress, seek advice and feel part of their 'Dobermann family'.
Floyd's Kennel Club name of 'Martyn a Whole Lot of Handsome' is certainly a name he lives up to as he is truly handsome. He is often admired by strangers and friends alike for not only his looks but his gentle and fun personality and endearing nature to both children and the elderly.
We love and are proud of Floyd and recommend Martyn and Lisa Slade to all Dobermann lovers and would be Dobermann owners.
Fiona and Philip Constantine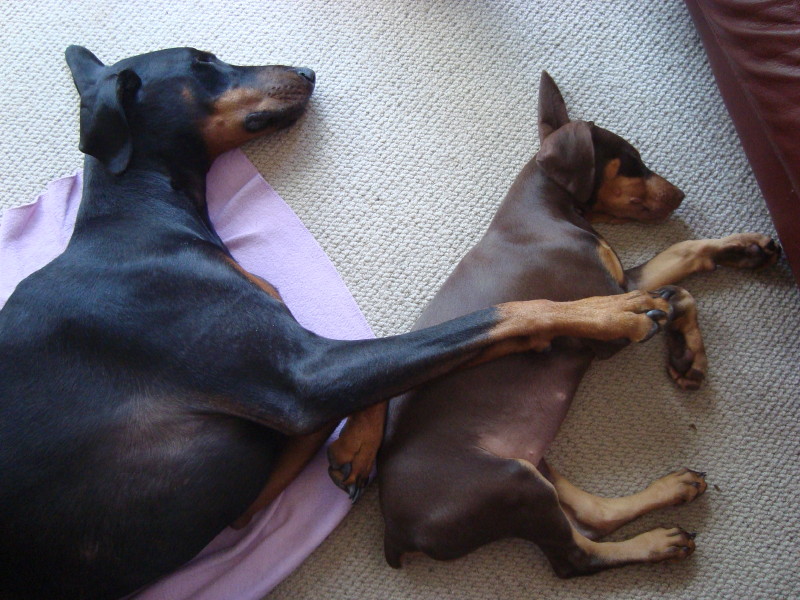 A photo of Fiona & Phill's Floyd and new baby Plum
After purchasing my first dobermann puppy from Lisa and Martyn Slade I would recommend them to any Australian or else where buyer, my little duchess came all the way from new Zealand to Perth and the whole experience was amazing it was great to be able to talk with two very experienced breeders and dobermann owners who could answer all of my many questions and make everything so easy! I was clueless on shipping my puppy duchess over but not with Lisa and Martyn they organized everything! Which was awesome all I had to do was pick her up! She is truly everything to me and is loved by everyone who meets her great temperament, so sociable and confident and just is happy to be around all animals she meets! It was also so nice for them to regularly update me on my beautiful girl duchess and send me plenty of great pictures of her :) such a lovely experience that I would happily do again with them! I would recommend Martyn dobermanns to anyone they are great extremely knowledgeable people who breed absolutely gorgeous puppies!
Melanie, Perth Australia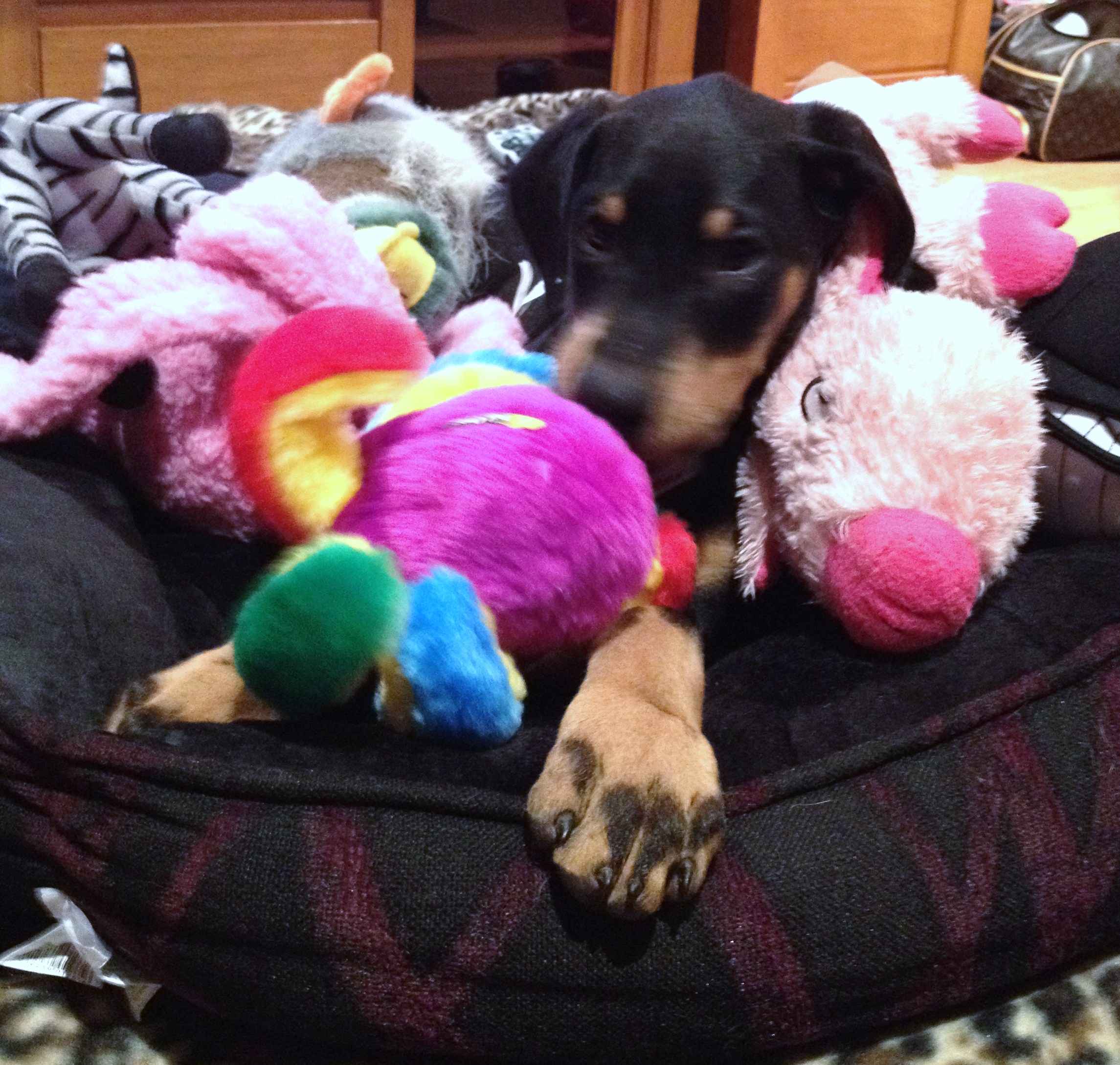 Duchess aged 10 weeks
We heard of Martyn's Dobermanns many years ago as been top of the line champions but never had the opportunity to acquire one, well 'till now. From the moment we made contact with Martyn and Lisa they showed us nothing but, kindness and courtesy as we were quite upset at losing our loved Dobbie. They have been excellent with keeping in touch with the progress of our beautiful new puppy from the time he was born and before that, with pictures of the newly born litter and Little Miss Sunshine (Dam) right through to the moment we picked him up from the airport in Auckland. They also helped us in choosing a beautiful well rounded baby (dog), which we are now the proud owners of. I would not hesitate to recommend Martyn's Dobermanns for their professional attitude and excellent communication skills they showed us right through our transition .We will be keeping in touch with Lisa & Martyn as our boy grows up . We would like to thank Martyn and his family once again for all they have done.
Thank you J.
Walter & Marion Bianco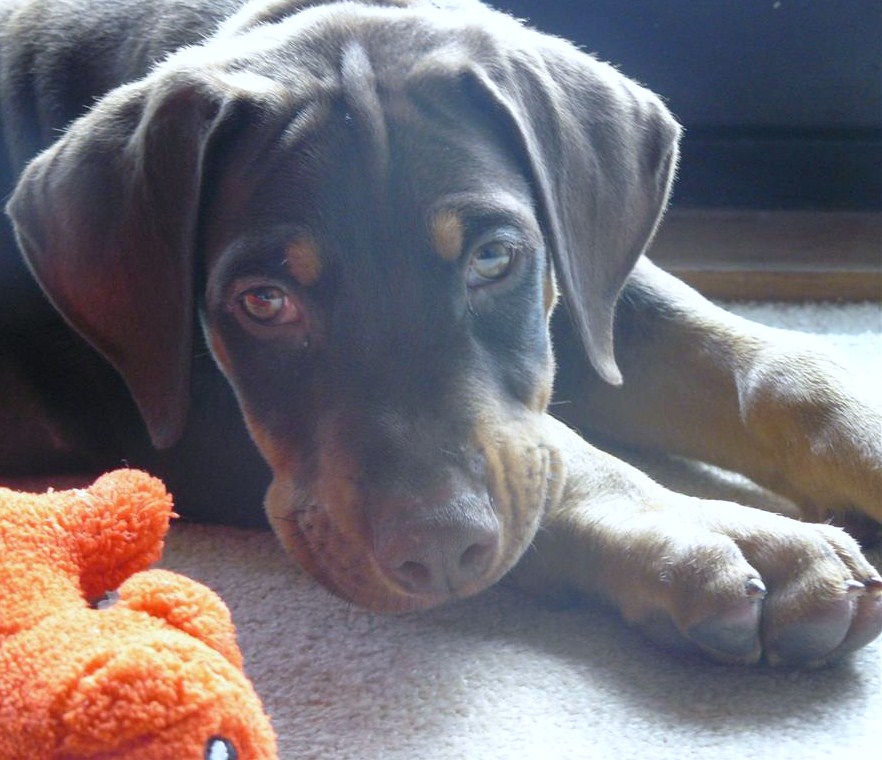 Argos aged 8 weeks
I came across Lisa and Martyn whilst on a search to find my Dobermann Mischa a companion. Being a young boisterous and girl it just become a little too much for the Jack Russell x to handle, and that is when I stumbled across my little man, Milo. I emailed Lisa and Martyn straight away and within a few hours I was the proud mama of a new Dobermann pup. As the Slade's are in New Zealand, my puppy was to come like a real traveller on a plane into Brisbane Internation airport at 8 weeks of age. The entire process was so easy. Lisa and Martyn kept in touch throughout the whole process, sent pictures and updates and organised the transportation and all the initial veternairian requirements. Milo came to me in a nice big crate, a little tired, but I think we were as excited as each other that he had come to his new home. Mischa is absolutely in love with him. They don't do anything apart and in typical Dobermann fashion are very protective of not only each other but me as well. My sweet other half, spoils him rotten but being as cute as he is with good lineage, who wouldn't! I don't ever want the day for something to ever happen to either one of my dogs, but if it did, I would get another puppy from Lisa and Martyn again. The pup is intelligent, alert, confident and very quick to pick up on things. He is attentive, friendly and so affectionate. He is the perfect mix of what you would want in a dog, and I'm so glad I went with Martyn Dobermanns.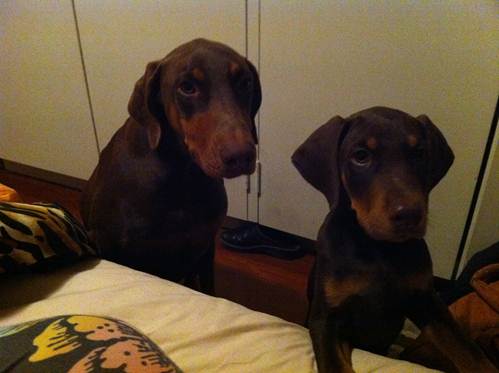 Michsa and Milo
TESTIMONIAL;
WE ARE THE PROUD PARENTS OF " GHOST " ( REG NAME MARTYN BETTY LOU WHO ) , 5 MONTHS ,
AND WE COULDN'T RECOMMEND MARTYN & LISA SLADE HIGHLY ENOUGH AS DOBERMANN BREEDERS.
GHOST IS A BEAUTIFUL , HEALTHY , INTELLIGENT GIRL , SHE IS VERY SMART AND ACUTELY ALERT. HER TEMPERAMENT IS FANTASTIC WITH BOTH DOGS AND PEOPLE. SHE HAS BEEN VERY EASY TO TRAIN.
WE ARE LIVING IN SYDNEY, SO MARTYN & LISA ORGANISED GHOST TO BE FLOWN TO US @ 8 WEEKS, EVERYTHING WAS HASSLE FREE AND TOTALLY ORGANISED , SHE WAS FULLY TOILET TRAINED WHEN SHE ARRIVED. AND FROM 0-8 WEEKS WE WERE KEPT IN TOUCH WITH UPDATES AND PHOTOS OF HOW SHE WAS DEVELOPING.
GHOST IS JUST A MAGNIFICENT DOBERMANN, SHE IS STILL VERY YOUNG BUT WE HAVE LOVED THE LAST 3 MONTHS WITH HER.
WE ARE TOTALLY IN LOVE WITH HER, SHE IS INCREDIBLY SPOILT AND SHE LIVES WITH HER STEP BROTHER BEAR ( choc lab 11 months ) THEY ARE, AND HAVE BEEN FROM DAY 1 ; THE BEST OF FRIENDS.
OUR INTENTIONS ARE TO GET A MALE DOBERMANN FROM MARTYN AND LISA WHEN GHOST IS 4 OR 5 YEARS OLD.
WHAT MAGNIFICENT, INTELLIGENT AND SOCIAL, DOBERMANNS MARTYN & LISA BREED.
WE HIGHLY RECOMMEND THEM AS BREEDERS , WITHOUT HESITATION
KIND REGARDS
MATTHEW & ESTER PEMBERTON
SYDNEY, AUSTRALIA
---------------------------------------------------------------------------------------------------------------
We have a 4 year old doberman and wanted to get another one so we started contacting many breeders in Australia and New Zealand , it seem that everyone who couldn't help us at the time highly recommended Martyns Dobermans in New Zealand.
We made contact with Lisa and Martyn and talked about talk about what we were after if they could help us.
We were told of planned litters and we went on a waiting list for a Brown male we were after.
We were contacted the day the pups were born and have been updated with photos and progress the whole 8 weeks until he arrived in Australia from Wags Pet travel. He is a beautiful little boy and is very confident with everyone he meets and he has fitted in with our family of 4 young kids a cat and our other doberman Bella immediately . The whole process starting from an email to talking to Lisa and Martyn from Levin In New zealand was so easy and professional and we are so Happy we contacted them .
I would highly recommend Martyns Dobermans to anyone who want to get a puppy.
Paul & Alison Gormly SYDNEY, AUSTRALIA
Regards PAUL GORMLY ( DIRECTOR )
ULTIMATE 1 CONSTRUCTIONS PTY LTD
--------------------------------------------------------------------------------------------------------------------------------------------------------------------------------------
A Dobermann has enriched most of our married life. A year or so after our fourth little girl passed away, Lyn decided it was time she had another treasure in our lives. A Dobermann with a tail is simply not a Dobermann, and due to a piece of ignorant Legislation we were forced to look outside Australia. After a search, Lyn found Martyn Dobermanns in New Zealand, and made an enquiry.
I have to say I am unable to fault Martyn Dobermanns in any way. They do not run a Dobermann Kennel, but rather maintain a Dobermann family, and obviously love each and every one of their charges. From the beginning, they were very patient with Lyn's questions, and they were many, and presented as the most caring people one could ever hope to encounter. Our little girl (along with all of Martyn's pups) received personal care. All freight arrangements to our location in central western Queensland were made transparently, and our little girl arrived, in full voice, in a clean well watered crate, already knowing her name. Of course, she is the most gorgeous little thing one could imagine. The photos and notes we received updating us on her progress from birth to seven weeks were so nice.
I cannot recommend Martyn Dobermanns more highly.
Bill & Lyn Hambly-Clark.
------------------------------------------------------------------------------------------------
Today at 5:35 PM
Hi Guys,

We were in Te awamutu with coda in the Suv and I was sitting with him with the boot open when a lady came up to love him and talk about him (not unusual ) and she then asked out of the blue if he was a Slade Dobe !! As she had one of your dogs 20 years ago and recognized their beautiful faces and raved about what great dogs they are !! (we told her how wonderful he is)
She works with dogs and helps at the pound so she said it was obvious he had the most lovely temperament.

She said we made her day!!

Cheers

Rose
......................................................................
30 Mar 2014
Aloha Toni - we just received an e-mail from Martyn about your inquiry and are happy to reach out to you to share our experience. We've been in contact with Martyn since the end of last year (we lost our beloved Kira in Sept) and received our puppy (Makana) on the 27th.

Martyn has been a joy to work with - the process was quite easy and he is very experienced, both in terms of being a Dobe expert as well as managing all the logistics of getting the puppy to us. We are planning to get another puppy from him in the next year or two.

Makana flew in on Hawaiian Airlines and we were very pleased with their service and caring. Picking her up required a stop at customs, then at the quarantine station (both located at the airport, within close proximity of each other) - the entire pick up process took less than 1 hour.

Here are some pictures of Makana as soon as we got her home - as you can see, she did not seem to have any ill effects from the long travel and is adjusting well to her new home.

.......................................................................
Today at 11:29 AM
Hi, I thought I'd give you's an update on my boy. His name is Slade, but after Tim Slade the V8 driver. And he goes like a bullet. Actually, more like a freight train really!
I didn't think I could get a dog that would replace my two. But he is those pair put together.

His gentle nature an kind eyes are like my bitch but his features are those of my old boy. His chararistics are from both. He is so much like the two it is scary. And they were chalk an cheese. Lol. He is six months old and weighs 28kgs. He is so solid. Just pure muscle. He goes to work with me an loves everyone.
He is already a great guard dog and judge of character. He protects all of us in our home and out in the real world. I'm proud to call him mine. Don't get me wrong, he is a typical pup doing everything naughty too. But I can live with that cause he's special to me.

My mate Damien Marsh is buying a pup through you guys now. Once he saw Slade he contacted you.

I will use "Slade" to recommend you guys for a very long time.
Thanks so much, Fee.